Nov 22, 2022
There's no denying it: Work relationships can be hard. The stress of dealing with difficult people can dampen creativity and productivity, degrade the ability to think clearly and make sound decisions, and cause people to disengage. We might lie awake at night worrying, withdraw from work, or react in ways we later regret — rolling our eyes in a meeting, snapping at colleagues, or staying silent when we should speak up. Too often we grin and bear it as if we have no choice.
But people can only endure so much thoughtless, irrational, or malicious behavior. In Getting Along, workplace expert and Harvard Business Review podcast host Amy Gallo identifies eight familiar types of difficult coworkers: the insecure boss; the passive-aggressive peer; the know-it-all; the biased coworker; and others — and provides strategies tailored to dealing constructively with each one. She also shares principles that will help you turn things around, no matter who you're at odds with.
Taking the high road isn't easy, but Gallo offers a crucial perspective on how work relationships really matter, as well as the compassion, encouragement, and tools you need to prevail on your terms. Through relatable, sometimes cringe-worthy examples and the latest behavioral science research, Gallo offers practical advice for navigating your toughest relationships at work — and building interpersonal resilience in the process.
Amy Gallo is a contributing editor at Harvard Business Review, where she writes about workplace dynamics. She is the author of the HBR Guide to Dealing with Conflict and cohosts HBR's Women at Work podcast. As a speaker and workshop facilitator, Gallo has helped thousands of leaders deal with conflict more effectively and navigate complicated workplace dynamics. She is a graduate of Yale University and has a master's in public policy from Brown University.
Ruchika Tulshyan is the founder of Candour, a global inclusion strategy firm. She is a regular contributor to The New York Times and Harvard Business Review. As a keynote speaker, Ruchika has addressed audiences at organizations like NASA, Bill & Melinda Gates Foundation, and U.S. Congress. Ruchika is on the Thinkers50 Radar list and Hive Learning's Most Influential D&I Professionals. She is a former business journalist who is now regularly quoted as a media expert in outlets like NPR, The New York Times, and Bloomberg. Ruchika is the author of The Diversity Advantage: Fixing Gender Inequality in the Workplace and Inclusion on Purpose: An Intersectional Approach to Creating a Culture of Belonging at Work.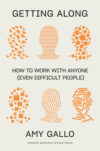 ---